Big Brown Road Trip: Chapter 2
On the second leg of our springtime adventure, the storm subsides and a fishing window opens up. Can we take advantage on a Wyoming tailwater known to harbor big browns?
Wyoming's North Platte had been on my radar since I'd produced a television show on the river in absentia circa 2010. Hindered by network TV production schedules, the fishing footage we were able to scrape together on 3-day shoots typically paled compared to what was becoming available on You Tube and the film tours. The Platte was an exception, as the host of the show tagged brown after brown on streamers, including a solid two-footer. Gawking over the footage in the edit suite, I made a mental note; "Fish the North Platte." It took me a decade to get here, but with two days of guided fishing ahead of us, we were poised to give 'er hell. The plan was to forego the famed "Miracle Mile" and with it, the bobber game, and pound the lower river with streamers in hopes of catching one fish. The "One", a brown 24" or better, or no fish at all.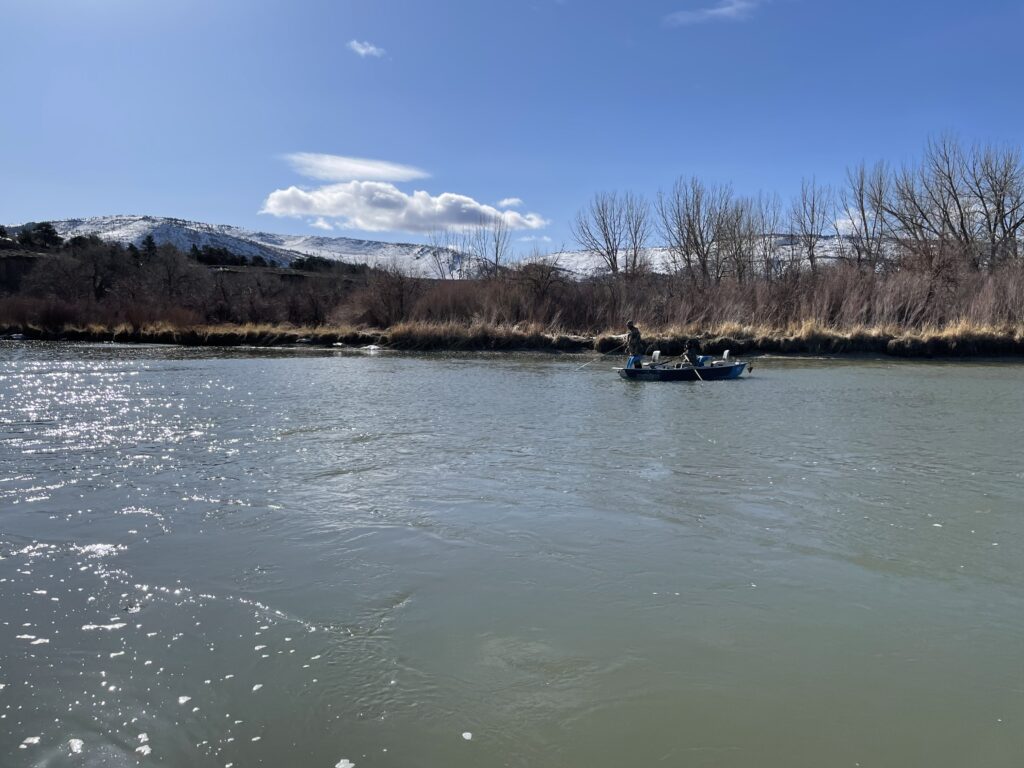 We met our guides at 7:30AM at the Reef Fly Shop in Alcova, which interrupted my morning exercise routine of repeatedly stirring cream and sugar into coffee. Though I have been guided for billfish, bonefish, permit, tarpon and winter steelhead over the years, my trout fishing has always been DIY, and I reminded myself to leave my pre-conceived notions at camp. 7:30 seemed like an early ass-on-curb for streamer fishing on a cold spring day, but I stopped myself before beginning this trip with a second-guess. What the hell did I know, I've never fished here before? If you want to get good, honest work from your guide, reciprocate with trust. As I watched my pals sneak bifocals, ibuprofen, and Tucks medicated pads into their day bags, it dawned on me that we had reached another aging milestone, hiring 30-year olds to row our middle-aged selves downriver. Phil had drawn the short straw the night before and had to fish alone while Justin and I would fish together. I introduced myself by my old Oregon nickname, "Jud", to make things less confusing for our guide, a Casper kid named Chris. "You guys are wanting to just throw streamers, right? We'll go float the stretch that I would do if I had the day off," Chris said, enthusiastically. I liked the guy already.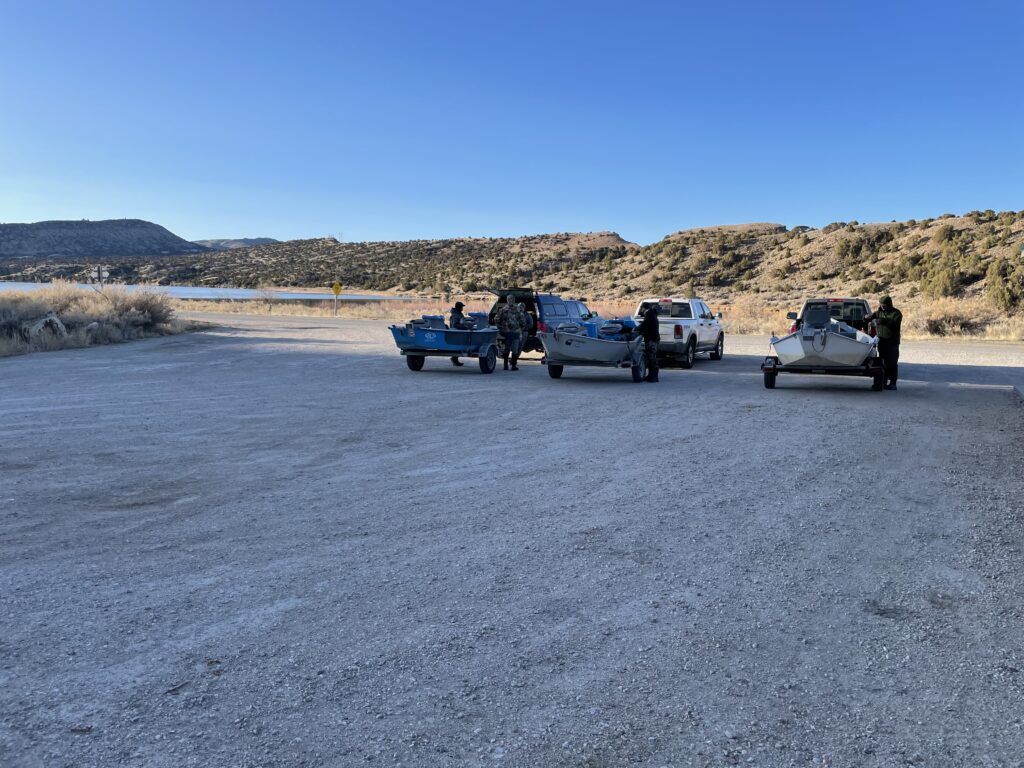 Two weeks prior to our arrival, a monumental blizzard had dumped feet of snow across Wyoming and Colorado. The weather system that we had just endured on the Bighorn had blown through, and now it was calm, clear, and cold. Spring trout fishing in the Rockies is not for the fair-weather angler, but as our young guide liked to say "you gotta' risk it for the biscuit". If you love to streamer fish, the two best windows for catching the apex fish are Spring and Fall, and both seasons are subject to inclement weather. We layered up, shoved off, and got to work pounding the icy, tannin flow of the North Platte.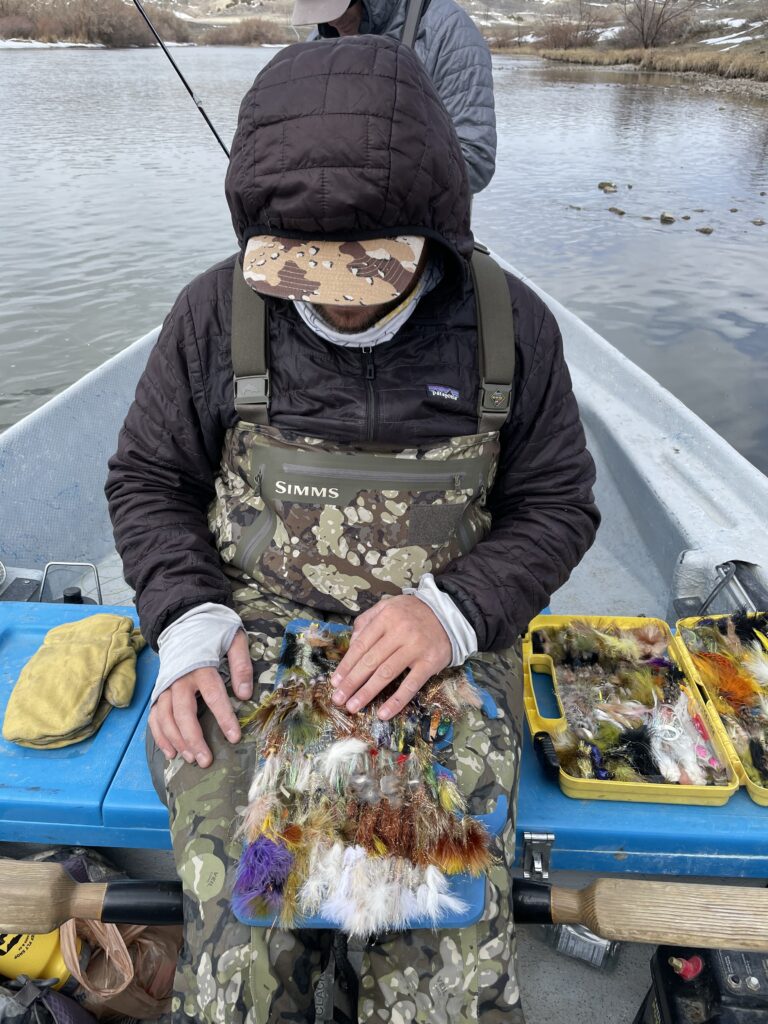 Our single-foot guides iced up all day and neither boat had clear confirmation of a hookup as we entered the outskirts of town. Just above a highway bridge, in a shallow, nondescript piece of water, my gaudy streamer elicited a full-body roll by the brown we were looking for. I kept my tip low and strip set, but there was nothing there. I continued my retrieve in preparation to pick up my line and clear it so Justin would have a shot at the fish, and then it went tight and my rod began to pulse. The fish must've been laid up getting some sun when my fly interrupted his snooze, and he decided to hunt down and kill the intruder. The brown slid into the net and we had our prize, a legit two-footer with plenty of girth. A fish you just don't see very often back in our home waters around Missoula, or anywhere, for that matter.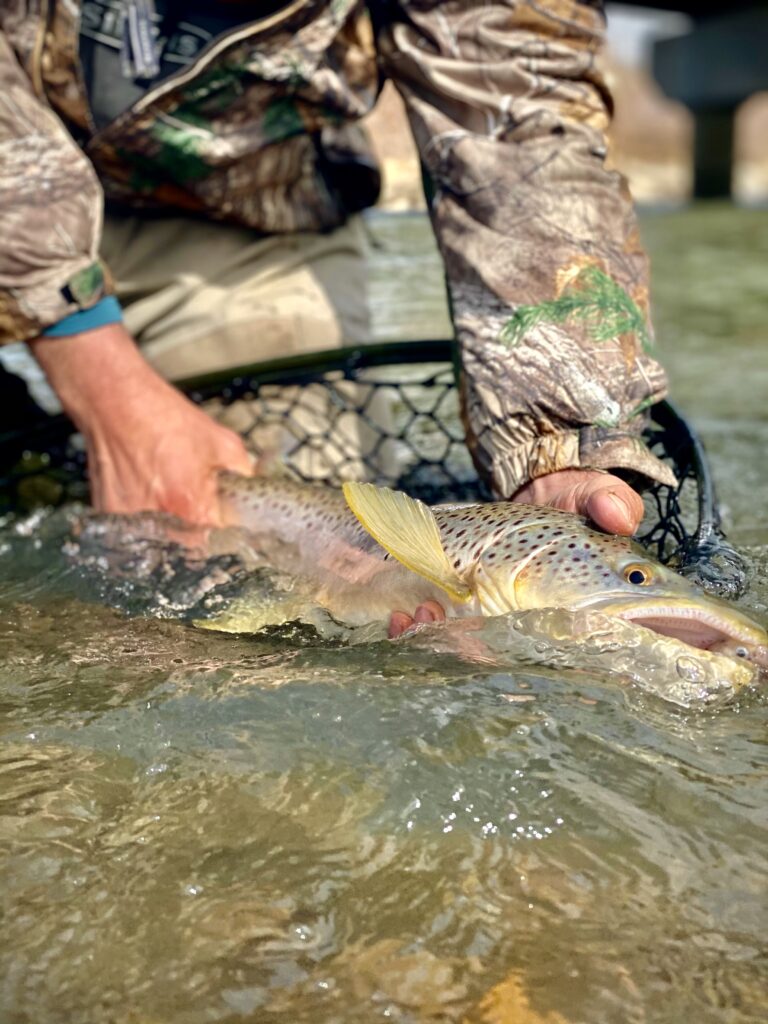 Despite warmer temperatures and growing optimism, we went fishless the next day on the Platte. We had come for one fish and found it and deemed the stop a success. That evening, we pulled stakes, grabbed a surprisingly good burger at a roadside dive bar, and pushed across highway 26. If there's a better place for a road trip than a vacant Wyoming highway at dusk, I haven't seen it. We drove for 90 miles through the twilight without seeing another vehicle, dodging deer, elk, antelope and a covey of sage grouse.